Ascot Mortgages are experts in arranging mortgages for customers, including customers who are looking to buy their housing association property through the right to acquire schemes.
As experienced mortgage brokers Ascot Mortgages are the best people to help you arrange your right to acquire mortgage. Offering a free, no obligation, initial consultation, Ascot Mortgages are able to match you up with the best mortgage available to ensure you get the best overall cheapest mortgages to suit your needs.

Experienced UK mortgage brokers
Free initial financial advice
Simple, fast, hassle-free service
We will search the whole market for you
Right to acquire – the basics
The right to acquire scheme is for tenants in England and Wales and enables people to buy their housing association properties. This means that you can get on the property ladder without having to leave the home that you love. Furthermore Ascot Mortgages can arrange your mortgage easily and cost effectively, to ensure that you can benefit from owning your own home without the hassle of moving!
Right to acquire discounts
Not only are you able to get on the property ladder without so much as moving a piece of furniture, you can also benefit from a substantial discount off the purchase price of the property's market value. This discount can be anything from £9,000-£16,000, or up to 50 percent of the property price, depending on the value of the property. Although there may be some excluding factors, for instance if you have been bankrupt or if the property is sheltered housing for the over 60s, the opportunity to buy your property at a discounted rate is a fantastic opportunity. In addition you can purchase the home jointly or with up to three qualifying adults, so long as they have lived in the property for at least twelve months, meaning that home ownership is even more accessible and affordable.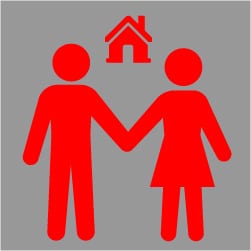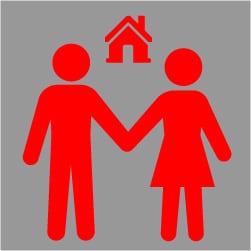 Right to acquire mortgages
Under the right to acquire scheme, if you began your tenancy after the 18th January 2005 you need to have lived in the property for over five years to be eligible. However, if you began your tenancy before this date then you need to have resided in the property for at least two years. In addition the property should have either been bought or acquired by the housing association after the 1st April 1997. Your housing association has to tell you if you are eligible for the right to acquire scheme within 8-12 weeks of applying and if you meet the criteria, arranging a mortgage is the only step between you and home ownership. Ascot Mortgages can do all this for you. More about buying your housing association property here.
Getting on the mortgage ladder is a great opportunity, especially in today's tough economic climate. Some people imagine that they would not be able to buy their property because it is not for sale or because they think that finances would not allow it. Even if your property is in an area where property prices are high, you may still be able to buy your London house or flat using Right to Buy. However the right to acquire scheme provides the opportunity for you to purchase the home that you have no doubt already spent a lot of money on, with a significant discount, and by using Ascot Mortgages – all with the minimum hassle.
Whilst getting a mortgage, perhaps the first one you have had, is often a nerve-wracking experience, it needn't be. Ascot Mortgages are highly experienced mortgage brokers and we can take the hassle out of arranging a mortgage, using our position and reputation in the market to maximise the cost effectiveness and efficiency, meaning that you could be on the path to home ownership with just one phone call! Give Ascot Mortgages a call or email to see how we can help you.
Other types of mortgages which may be suitable:
Ascot Mortgages are highly experienced UK mortgage brokers, and are able to source and secure the best mortgage deals for our clients. If a right to acquire mortgage is not suitable for you, or would like to look at other mortgage products please ask us about our other popular mortgages, such as 70% LTV Remortgages, and our specialist mortgages for First Time Buyers. Please contact us for a free consultation and free mortgage match, and Ascot Mortgages can search for the best mortgage deals for you to make sure you get the cheapest and most suitable mortgage.
Ascot Mortgages offer a comprehensive range of mortgages from across the market. We are dedicated to providing the very best financial advice and the highest standards in customer service.
Please contact Ascot today, and you will be very glad you did.